Regular price
$375.75 CAD
Regular price
Sale price
$375.75 CAD
Unit price
per
Sale
Sold out
The SR800 can roast a minimum of 4oz of beans.
It is a manually controlled machine.
All roasters are 120V 
Warranty Information:
All coffee roasters are covered with a full 1 year *warranty on the Base Unit.
Top Cap, Chaff Basket, and Roasting Chamber have a 6 month warranty on manufacturer defects.
*The SR800 is designed to roast 8oz of green wet-processed coffee beans. Going above the specified amount of green coffee can run the risk of plugging up the chaff basket and causing a chaff fire. The user must inspect and monitor the chaff basket for fullness and adjust the bean quantity as needed.
Share
View full details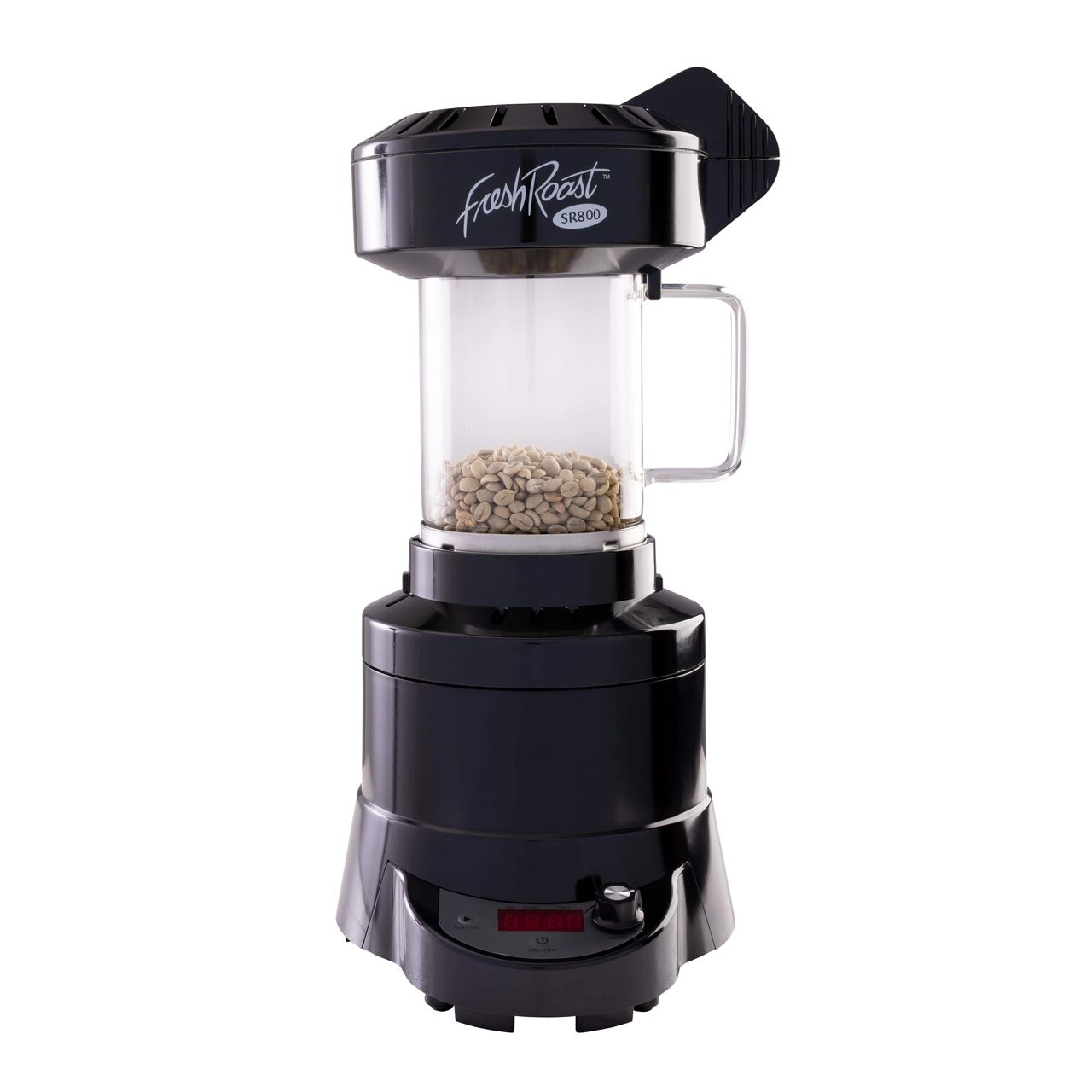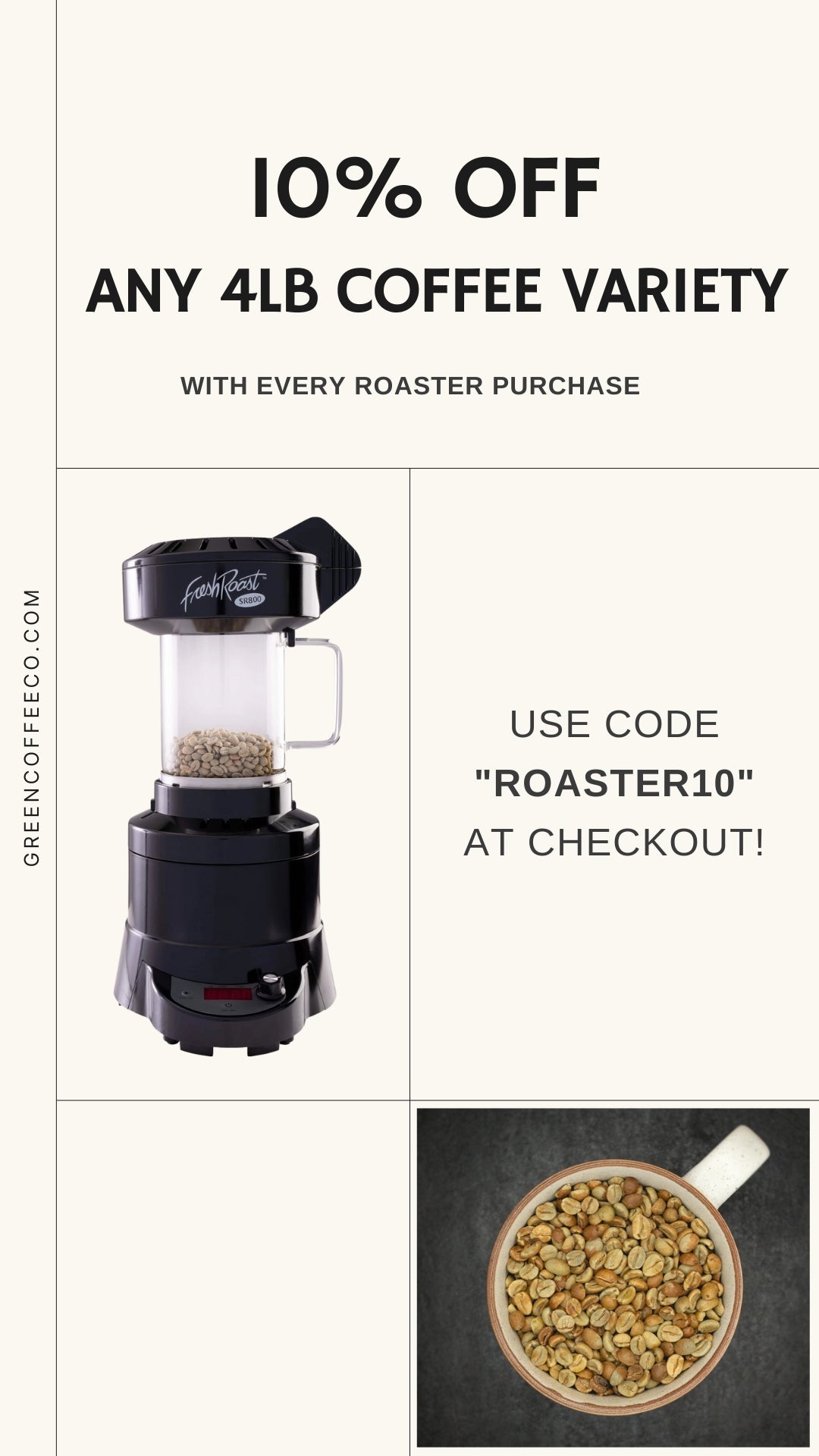 nothing's perfect
but for my consumption level this is pretty good
Fresh roast SR800
Still learning how to roast with this nice machine.
I have only done two roasts so far and they came out very good !!!
Hi, my opinion of the FreshRoast SR800.
******** First a bit about my Journey. I started roasting, with a hotplate style, with a rotating blade to stir the beans. I found it coated the beans in the smoke, even with 4 holes in the glass cover to vent. This produced a roast, that was unhealthy and tasted terrible. So I tried as Popcorn air popper, and was very pleased with most roasts. But it lacked control, and was to reliant on room temperature. I could not tell what the temperature it was at, and internal sensors would not allow it to get hot enough sometimes. And it only did small batches. So the SR800 was the next logical choice. I find it much better, it's like a popcorn popper, but with more power and features.
************* What I liked.
1 – It can roast 225g batches, although I only do 200g at a time, this works for any type of bean.
2 – It has both a good strong fan, and good heating capabilities.
3 – The timer provides a safety net, in case the operator is incapacitated or otherwise distracted.
4 – The cooling system is very convenient, and does the job.
5 – The shaft catcher works very well, and can be vacuumed clean very quickly.
6 – It Allows me to control the roast, experiment and fine tune. I can't say anything about durability of the SR800, since I have not had it long enough. But it seems durable, with the much needed glass, being the only apparent weakness.
************* What I disliked.
The glass is fragile, and for my old arthritic hands, it's scary to wash. Since I tend to drop soapy wet things a lot. But my only real complaint about the SR800, is the controls. I really, really, really, don't like the temperature display, not being available all the time. This is aggravating and distracting, to say the least. ** The proper controls should, in my opinion be.
1 – Dedicated display for temperature, and timer.
2 – And a timer that counts up as you roast, NOT down, this forces me to use a separate timer. (Another distraction)
3 – Graduated and separate controls, for fan and heat.
4 – For cool down, the timer should reset to a default setting, instead of using current ones.
5 – A deeper chamber instead of a separate extension, just adding 4 inches would probably work.
If the a new model had these features, I would upgrade, even if this one was still working. It would make things much, much, simpler and more intuitive. * Please note I purchased the glass extension also, since I'm using the unit in a fairly cold room 65deg. Although I don't use it all the time. It helps sometimes with getting the heat started faster for dense beans, like Water Hulling processed and High Altitude. And since it allows the use of lower power and fan settings, it can save me money. *** In conclusion. Despite my complaints about the controls, they work, and they are easy to learn. I really like the SR800, and would recommend it to anyone that enjoys the roasting experience. The clean roast provided by the flowing air, is healthy and taste's great. It also allows for experimentation, and fine tuning, at a fair price. That's my take on the FreshRoast SR800