Regular price
Sale price
$15.50 CAD
Unit price
per
Sale
Sold out
ORIGIN: Peru
In 1895, it was recorded that although Peru was known for coffee production, it was mostly for domestic use. In the years since, production has moved from mostly wealthy European farms, to smaller independent producers. In order to overcome the challenges that face small lot producers, many have formed cooperatives to mitigate these hurdles. Today, Peru is noted as a major producer of organic and fair-trade coffee beans, and coffee is one of the country's most important agricultural sectors.
REGION: San Jose de Lourdes, San Ignacio 
Located in the Cajamarca region of Northern Peru. This region extends north to the Ecuadorian border. Described as a privileged climate, the area boasts a wooded mountainous landscape, with many natural resources. The town of San Jose de Lourdes is accessible only by cable car or raft, which makes it logistically difficult.
PRODUCER: Coop Agraria de Servicios Multiples El Milagro
This small but growing cooperative is mostly made up of farms that are only 3 hectares in size. Despite the difficult location, they have an office and cupping lab, and have recently invested in enclosed drying structures. This has allowed members to improve their drying techniques, and subsequently increase cup quality as well. Since 2015, the cooperative has also begun a microlot program. This provides the producer cupping feedback, a desire to improve quality, and general encouragement.
DECAF PROCESS: Swiss Water®   
An organic approach to decaffeination that utilizes  fresh water, temperature and time rather than chemicals. The Swiss Water® process removes 99.9% of caffeine while preserving the original flavours and characteristics of the beans.
PROCESS: Washed, Swiss Water®
ALTITUDE: 1,200-1,600 MASL
VARIETALS: Caturra, Catuai, Costa Rica, Pache, Catimor
CERTIFICATION: USDA Organic, Fair Trade Certified
CUPPING NOTES:
Flavor: Milk chocolate, red grape, butterscotch
Acidity: Mild
Body: Medium

Share
View full details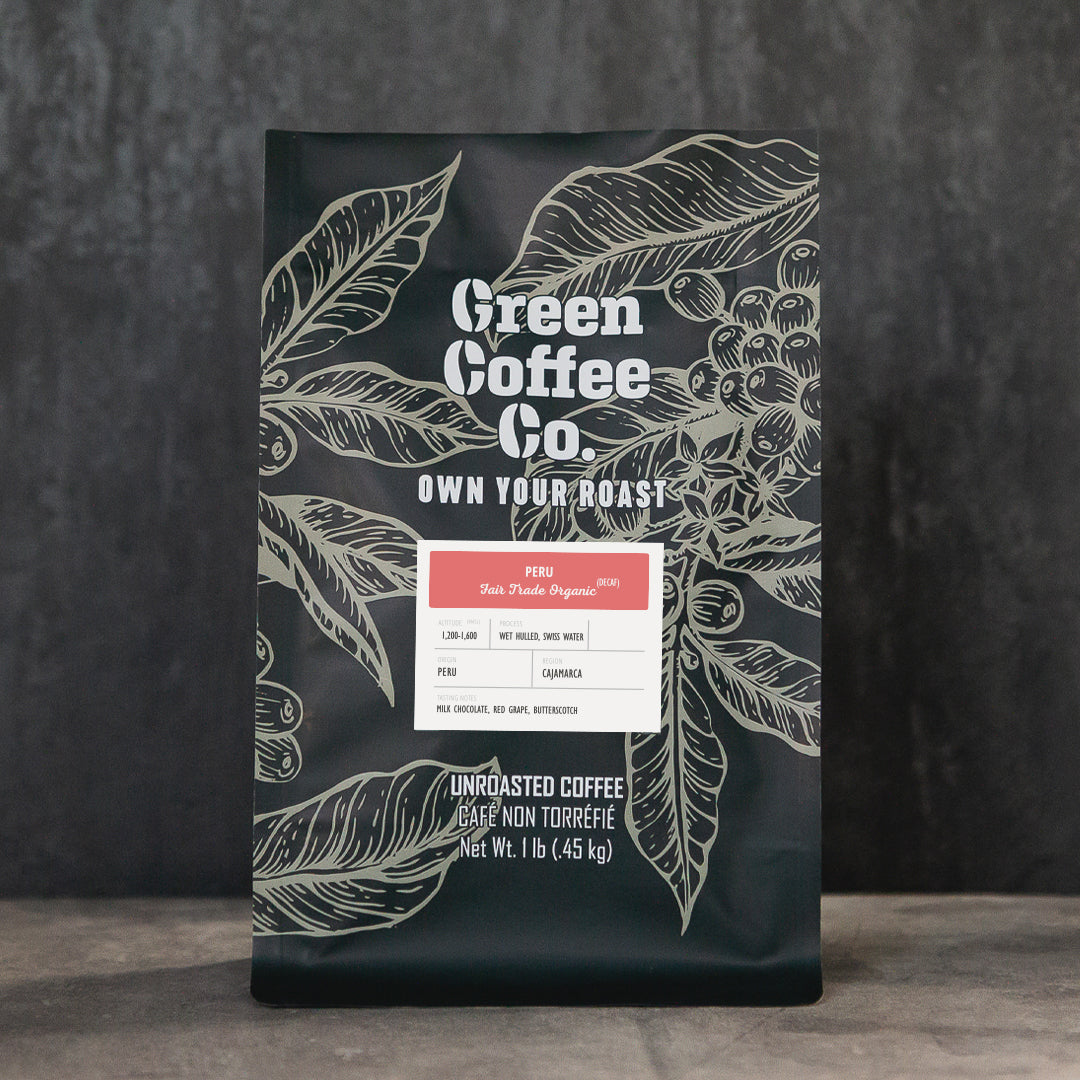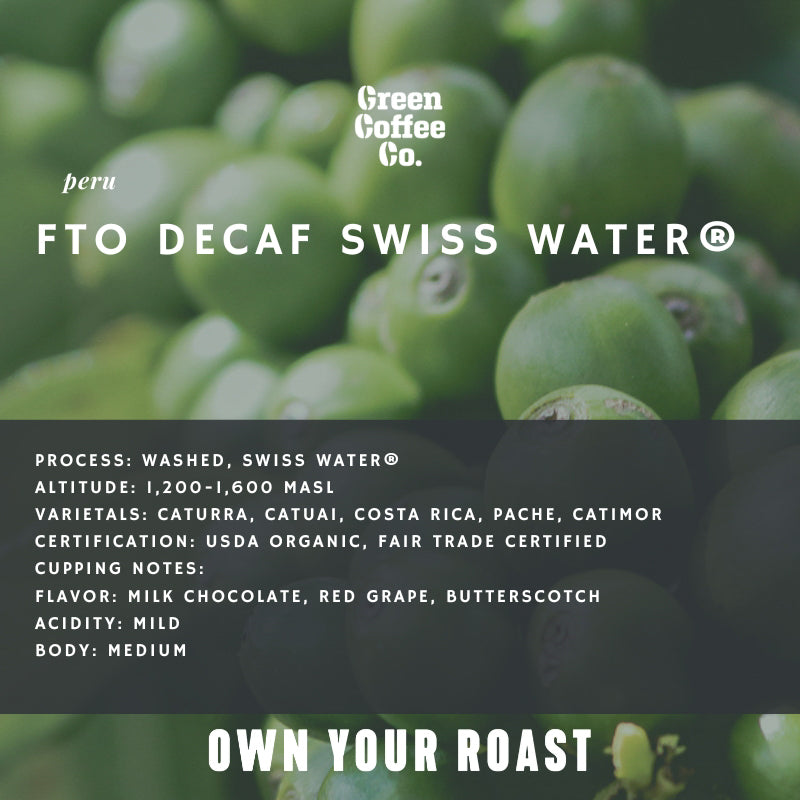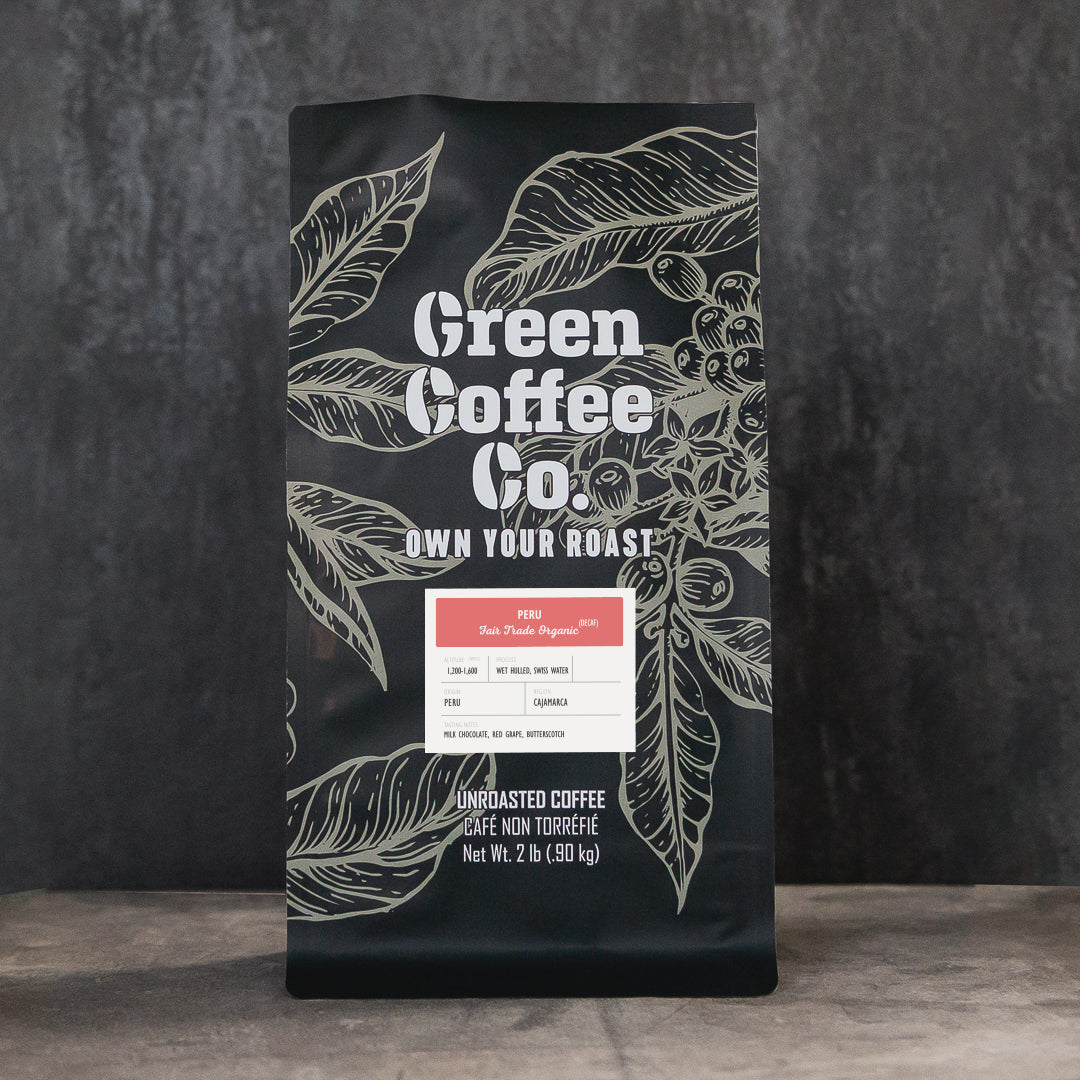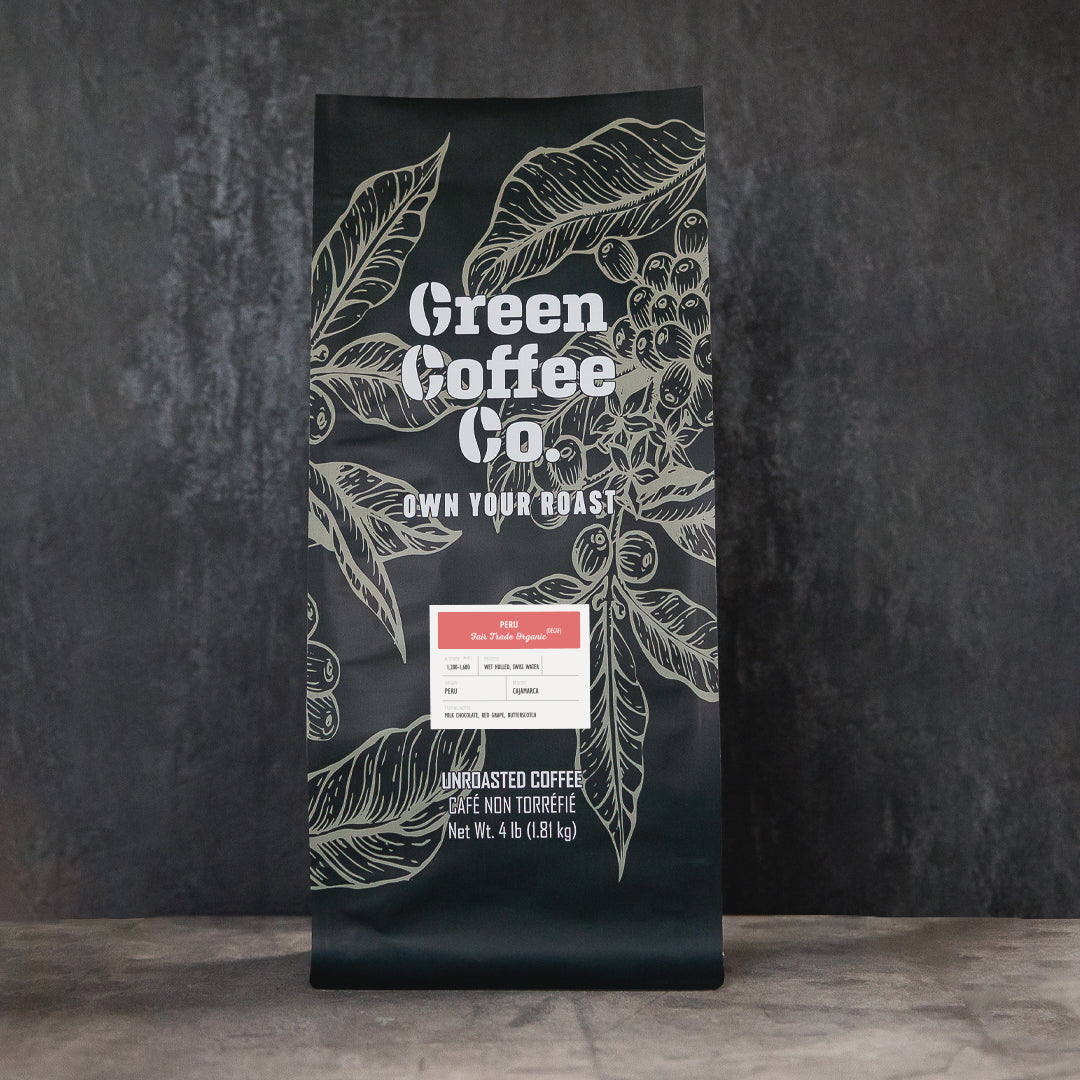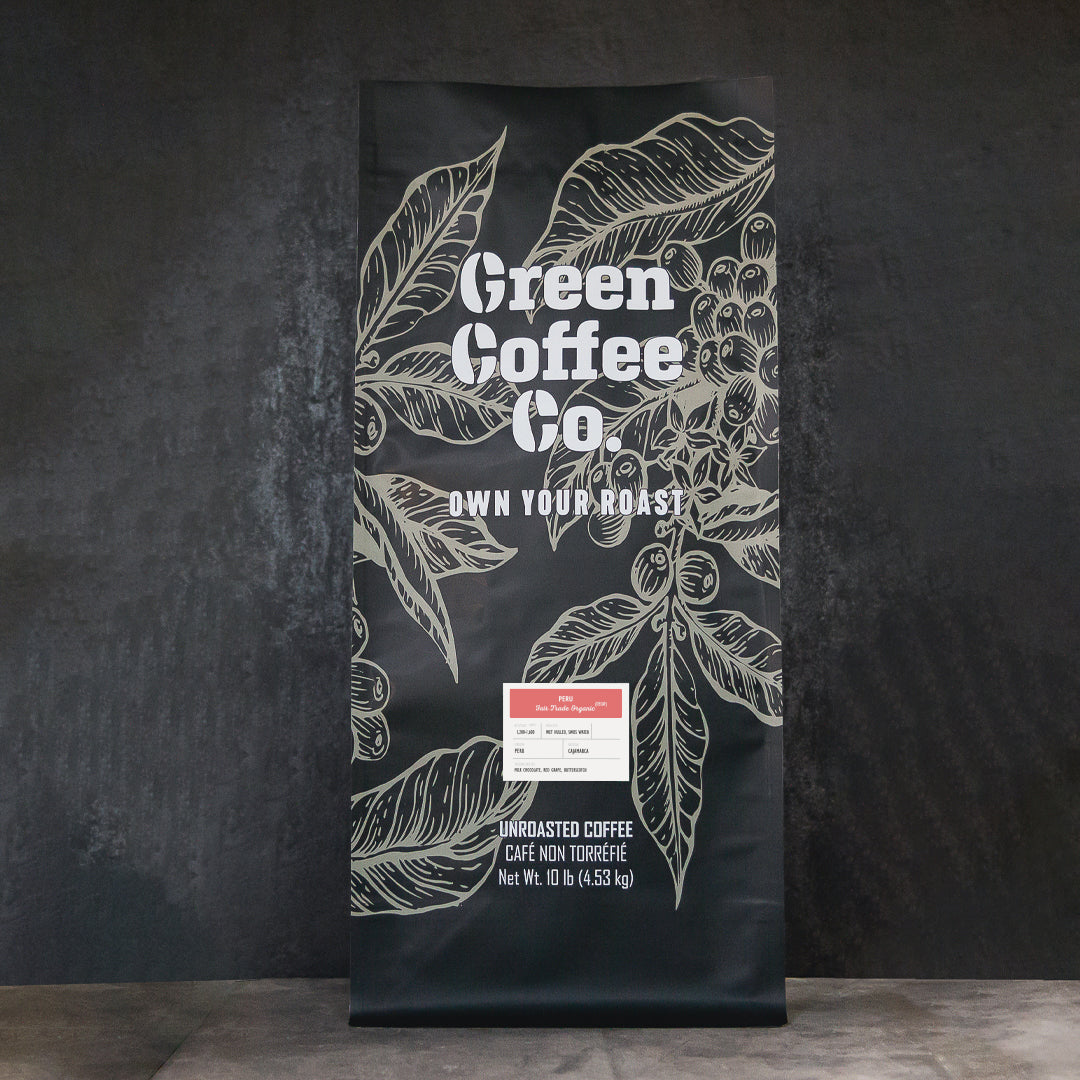 best decaf i've had!
Just finished a 4lbs bag and I will order a new one. I'm not a decaf drinker, but sometimes I enjoy an evening cup of coffee, or sometimes I blend this coffee with another one to decrease caffeine content. Overall, when light roasted, this coffee has a round milk chocolaty taste. Just get it, you won't regret it ;-).
nice decaf
roasted to light and tastes nice with hints of chocolate
Will definitely get some more
Excellent. Using a Fresh Roast 540 w/ extension use a normal profile but take off a bit or you'll get a full city. 415 degrees and 10 minutes should do the trick.
25 lbs is that too much
We just ordered 25 lbs of Peru Decaf green beans and wondered if we were a little reckless in ordering so much. We roasted our first batch and to our delight, the lattes were perfect.
Nice Decaf Bean!
If you are looking for a decaf bean that roasts up and actually makes a good cup this is it! Chocolate and brown sugar sweetness makes it a treat with no caffeine! If using a Behmor use P3 and manually toggle down when close to first crack. Watch your temps! I started cooling 30 sec after 1st crack with the door open to avoid over-roasting. I then cool quickly in a water bath and viola! Rest for a day and good to go!