Regular price
Sale price
$15.00 CAD
Unit price
per
Sale
Sold out
COUNTRY: Peru 
In 1895, it was recorded that although Peru was known for coffee production, it was mostly for domestic use. Peru has all the conditions necessary to produce world class coffee, but is still relatively new to large scale production. Despite the country having several major challenges such as infrastructure and transportation between farms and delivery points, this hasn't stopped growers from producing extremely impressive coffee. Today, Peru is noted as a major producer of organic and fair-trade coffee beans, and coffee is one of the country's most important agricultural sectors.
REGION: La Coipa District, San Ignacio, Cajamarca
La Coipa is one of seven districts in the province of San Ignacio. Located in northern portion of the country, it shares a border with Ecuador, part of the territory includes the Amazon rainforest. Much of the coffee production in this region is from small farms, and managed by farmers that follow organic practices attuned to their cultural connections to the land.
PRODUCERS: Asociacion Valle Verde  
350 regional producers have joined forces to create the Asociacion Valle Verde. This allows them work together collectively and have greater influence for tasks like farm management, warehousing and post harvest solutions. Even more importantly, it allows them to work in conjunction with Origin Coffee Lab, which was established to assist small producers with small but crucial activities such as quality control, traceability and certification. In turn the association can reinvest in their farms and strengthen the livelihoods of local families. 
PROCESS: Fully washed.
ALTITUDE: 1,600 – 1,800 MASL
VARIETALS: Bourbon, Catimor, Catuai, Caturra, Pache
CUPPING SCORE: 86.5
CUPPING NOTES:
Flavor: Honeydew, lemon peel; caramel, milk chocolate, light roasted nuts, cacao.
Acidity: Citrusy
Body: Mellow, balanced

Share
View full details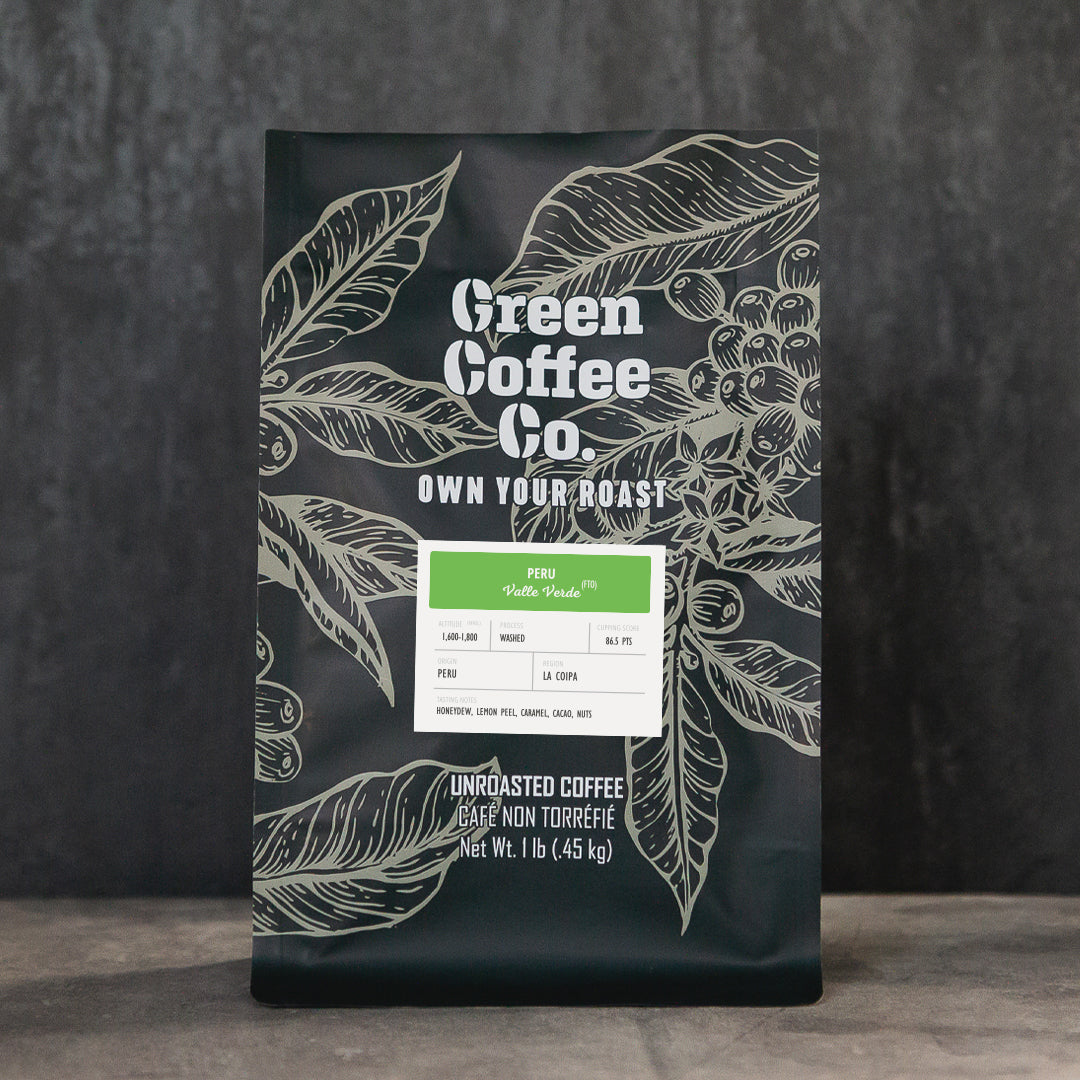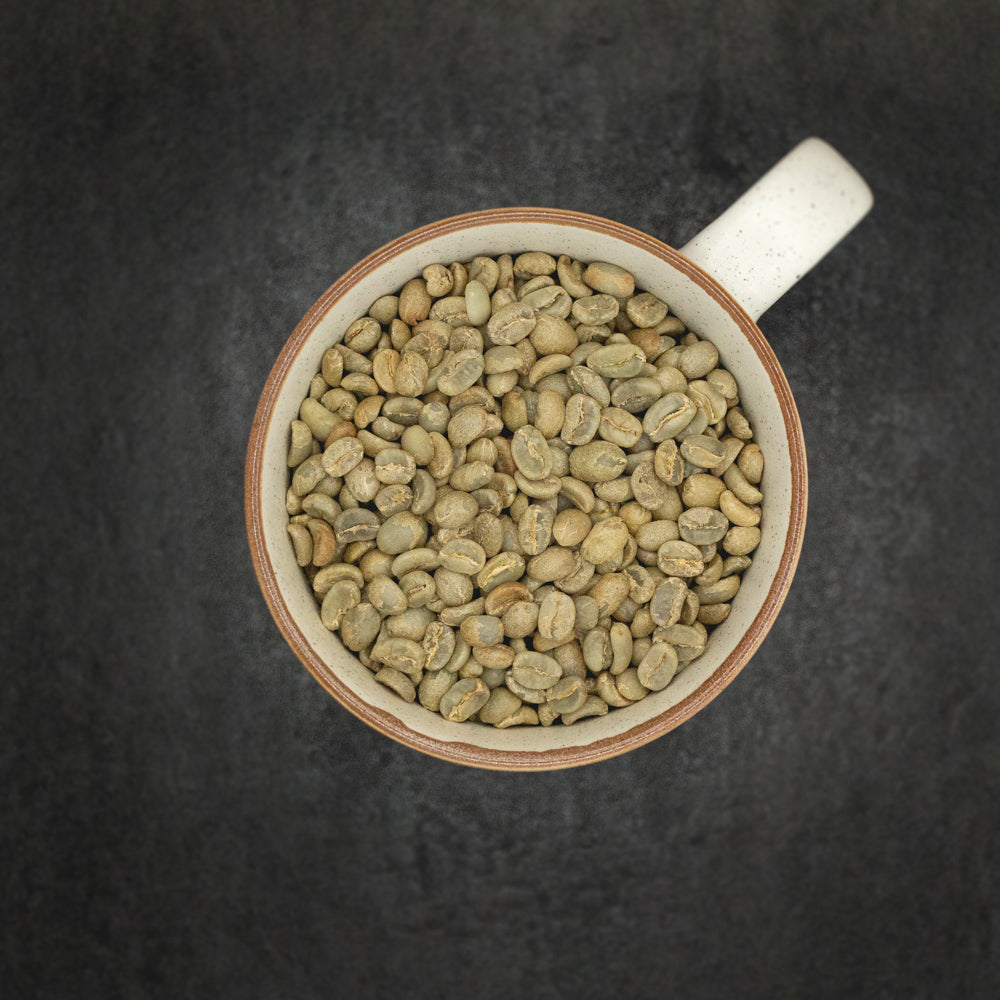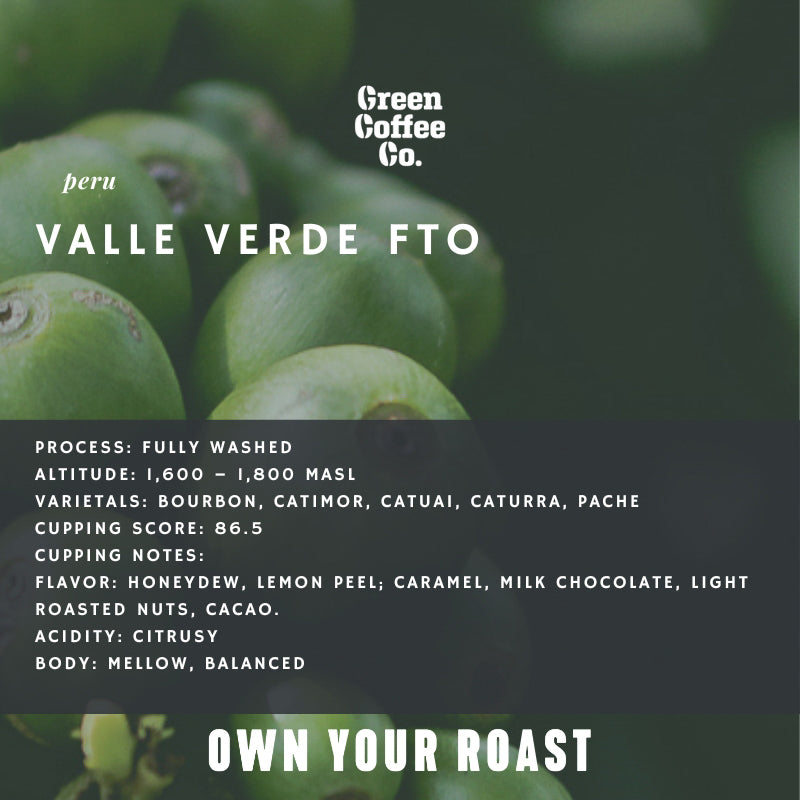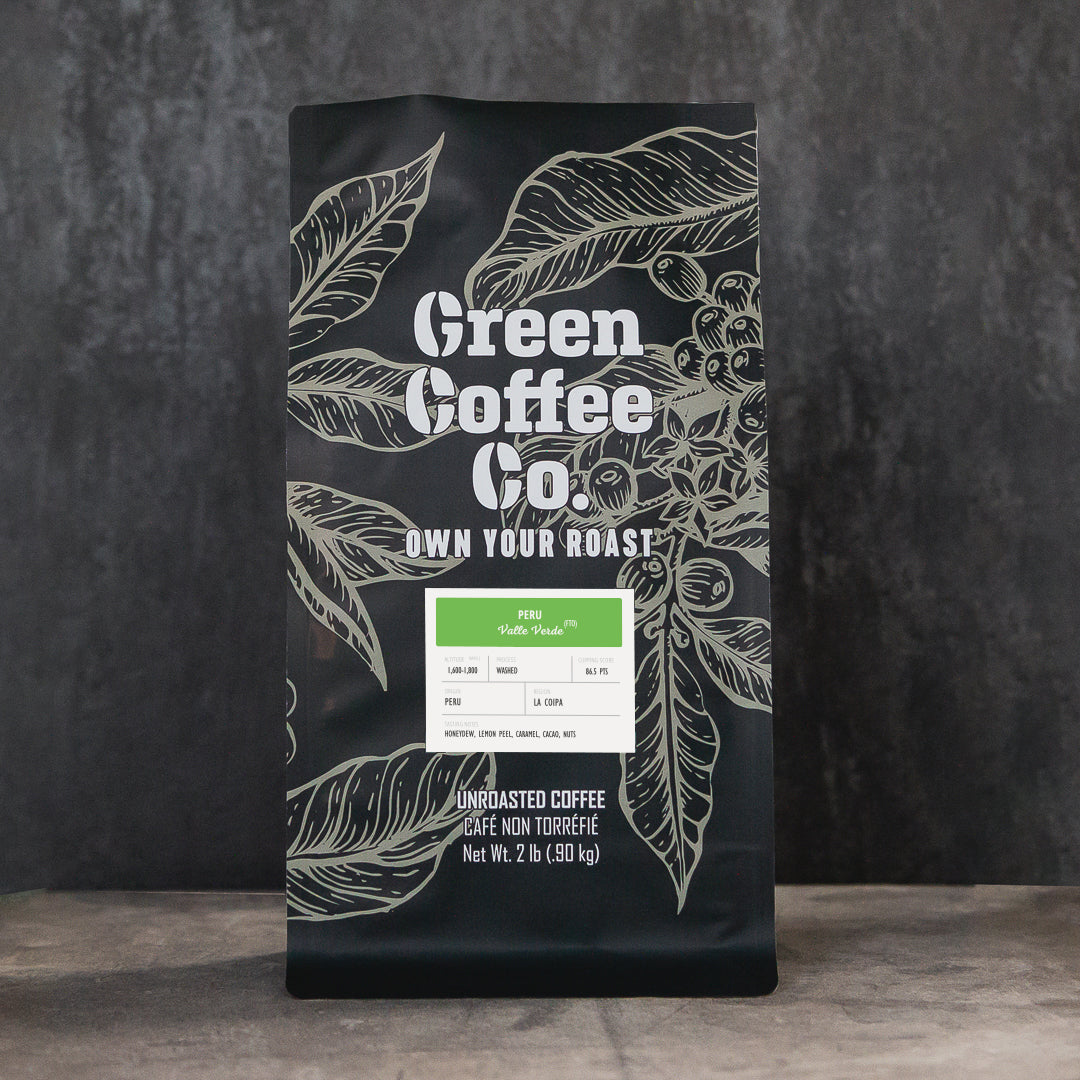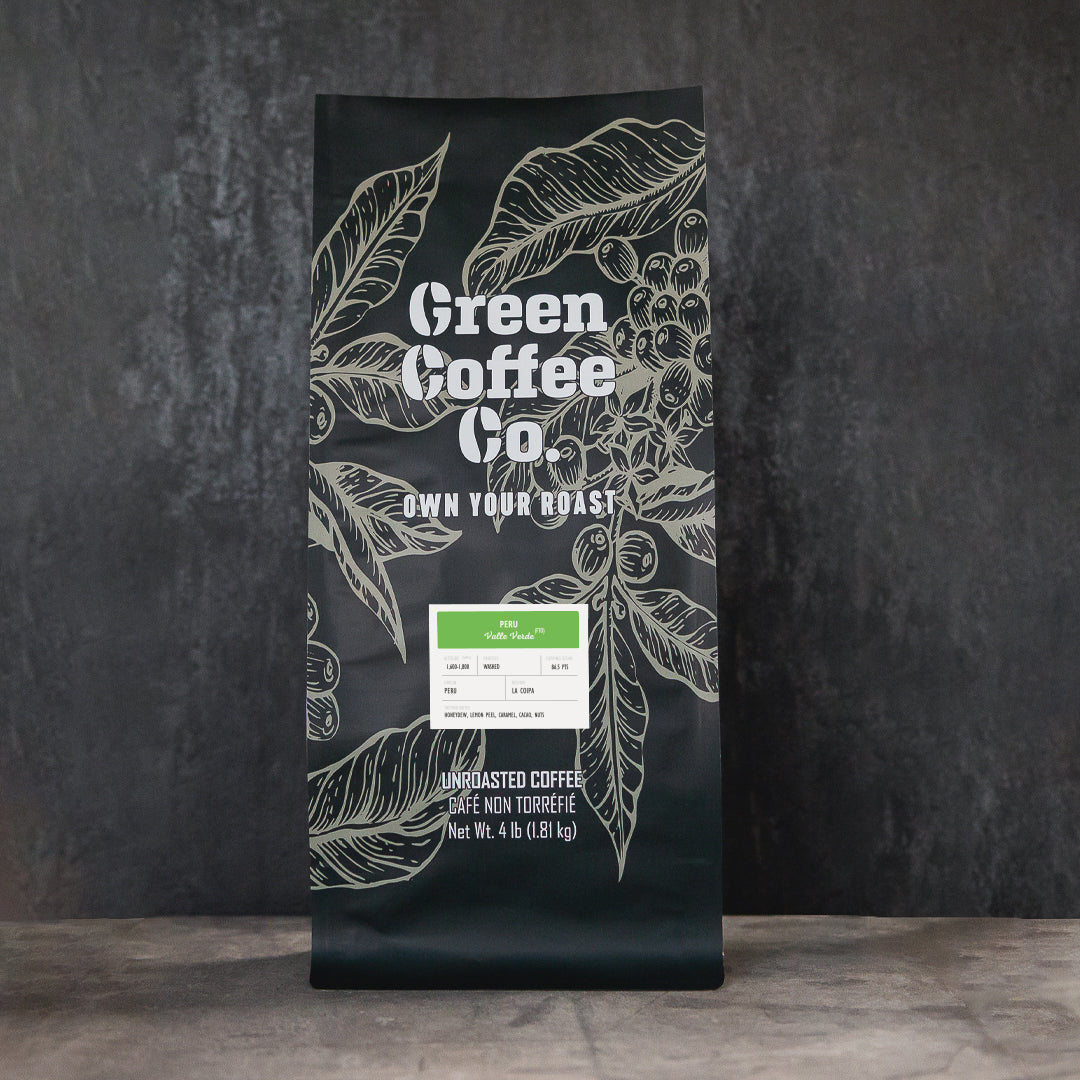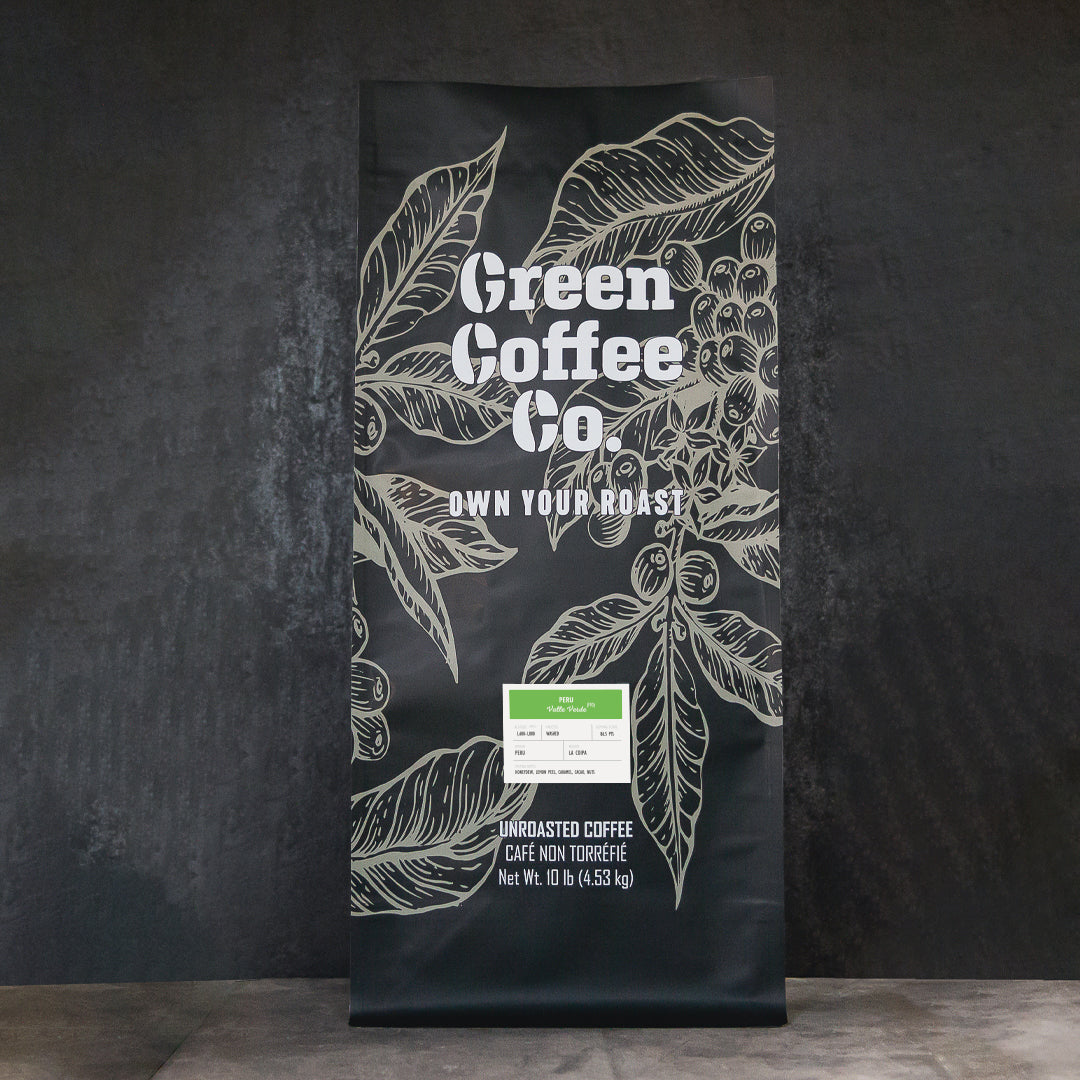 Good flavour but I found a rock....
Like the title says: coffee has a nice flavour profile but after roasting I found a small rock/stone in the roast. Luckily I was attentive enough to take it out as this roast was going to friends and family - it would have totally destroyed their coffee grinder... or worse. I would have hoped these types of things would have been sorted out at the quality control stage.
We are sorry to hear that you found a rock. We do our best to ensure that all our products are clean and have been thoroughly inspected, but the odd rogue item can slip through. It is encouraged that all products are scanned to ensure that nothing has been missed. If there is anything we can assist with further, please let us know.
Peru Valle Verde FairTrade Organic
Peru Valle Verde FairTrade Organic
Great flavor
Peru Valle Verde is smooth and full of flavor. Although I was not able to get a dark roast with it, as a medium roast it rivaled many dark roasts.
Thanks for the note … and for the really prompt service. You are much faster than I am: I won't be doing a roast until this weekend ! Pleased to provide some feedback afterward ( but I may require further prompting ). Bill Sara